Armed Citizen's Legal Defense Network
Can you survive the legal aftermath of self defense?
Armed Citizen's Legal Defense Network
Legal Protection for the Armed Citizen 
Join the Network so you can access
• Attorney and legal expenses paid after a self-defense incident, including–
–Fee deposit paid to your attorney immediately after self defense for representation during questioning and other vital defense services.
–Bail assistance: The Network provides up to $25,000 to post bail on behalf of a member who has used force in self defense. Click here for details.
–Further funding for legal defense expenses after justifiable self defense if criminally charged or sued in civil court.
• Education: 8 full-length lectures on DVD and a 235-page book so you know what's justifiable, what to expect and how to best interact with the criminal justice system.
• Guidance from our Advisory Board comprised of the recognized leaders in self-defense training: Massad Ayoob, John Farnam, James Fleming, Tom Givens, Emanuel Kapelsohn and Dennis Tueller, led by Network President Marty Hayes.
• Access to a growing nationwide network of attorneys and legal experts. Read more here.
• Monthly education and updates through our online journal.

Confused by all the post-incident protection plans?
Armed citizens have a number of options for support after self defense. These include the Network's membership benefits, as well as competitors selling insurance, prepaid legal service plans and hybrids. Frequently callers ask how they can choose. While we can't speak to what other businesses do, we are happy to provide an indepth review of the Network's membership benefits.
Network dues are affordable.
New members pay $135 for their first year's dues and renewing members pay $95 per year. Members can add a member living in the same household for an additional $60 per year. (Multi-year rates available.)
Think it can't happen to you?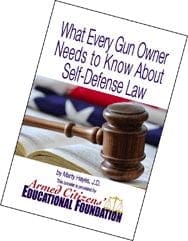 We'd like to send you your own copy of this concise, little booklet packed with critical information for American gun owners.
Topics covered include–
When using a gun in self defense is allowed by law and why those circumstances may not be as clear cut as one might initially think
Defending self defense and arguing an affirmative defense in court
The initial aggressor rule
Using your gun to defend others
Shifts in self defense law
Written to encourage exploration into the reader's own state law, this small booklet concisely outlines and explains general concepts of self-defense law that will apply in all 50 states.

What Every Gun Owner Needs to Know About Self-Defense Law is offered free of charge to introduce gun owners to the Armed Citizens' Legal Defense Network, Inc., and as part of the Network's mission to educate gun owners about their interaction with the criminal justice system after a self-defense shooting. A pdf copy is available at this link or click the picture to the right. To obtain a printed copy, order online at this page or write to request a copy:
Armed Citizens' Legal Defense Network, Inc.
P O Box 400
Onalaska, WA 98570
Download our free 46-page PDF telling the story of a Tucson, AZ man, assaulted in his own driveway by three people and the trials he endured defending against criminal charges the prosecutor pursued twice. Free download available here or click the cover above.